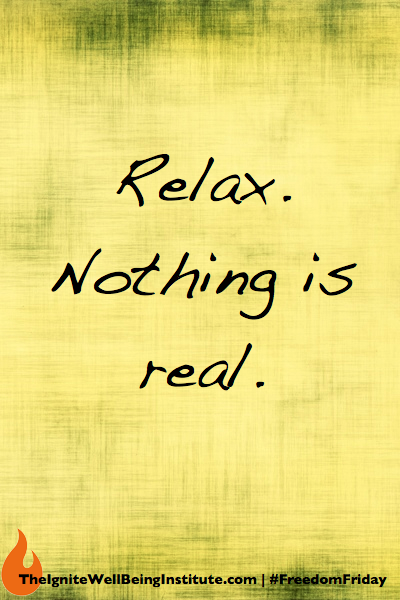 Personal musings on igniting your life from the inside out and the top down.
Look around you. Nothing you see is real.
Yes, I'm going here this week.
I know it's hard. As I write I see a computer, a desk, a smoothie and words appearing on the screen before me. How can it not be real?
In reality, it's only my interpretation. It's a computer because I say it is. Or more accurately because someone said it is.
In reality it's a combination of micro packets of energy assembled to be a thing I call a computer.
Why does this even matter? What does this have to do with freedom or well being?
I see a lot of suffering in the world. I hear a lot of suffering.
People suffering because they've told themselves they don't have the time to look for a job.
People who believe nothing will alleviate the pain of a headache yet refuse to drink a glass of water.
People who want to lose weight but won't exercise or try kale.
We are attached to our suffering.
The Buddha said that attachment is suffering. We have gone one step further and become attached to our suffering.
We sit around complaining to each other. We get attention for our suffering. We get sympathy for our suffering. We get strings of comments on our Facebook posts that validate our suffering
We are attached to our suffering because it pays off big time.
We get to be right that we are a victim.
We get attention so we feel like we matter.
Suffering is safe because we don't have risk being truly joyful.
Like the computer, our suffering is not real.
Yes it feels real.
Suffering is an automatic reaction to an otherwise neutral event.
Suffering is the product of our beliefs, which we are constantly reaffirming with each choice to suffer.
In short, we're making this shit up.
Freedom comes from realizing we are the source of our suffering.
What are you making up today?
{ 0 comments }